Richard E. Parke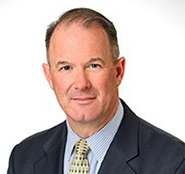 Richard E. Parke is a seasoned intellectual property litigator and counselor. His practice includes litigating complex intellectual property cases, counseling clients on intellectual property procurement and enforcement, prosecuting ex parte and inter partes trademark matters, negotiating licenses and other agreements, preparing intellectual property opinions, and conducting due diligence for corporate transactions. 
Richard has litigated patent and trademark cases in a myriad of industries and technologies, including pharmaceuticals (e.g., Hatch-Waxman litigations for Boniva® and Actonel®), medical devices, semiconductor fabrication, industrial equipment, telecommunications, data encryption, assay methods, food chemistry (human and animal), and consumer products. His experience covers all aspects of intellectual property litigation, from pre-trial investigation through appeal, and entails appearing and arguing in a variety of forums, from federal courts to administrative tribunals (e.g., Trademark Trial and Appeal Board) to alternative dispute resolution panels. These activities have resulted in trial and appellate victories, as well as wins at the summary judgment, preliminary injunction, and initial pleading stages. Richard has also negotiated a number of favorable settlements for clients.
Before joining Wissing Miller, Richard was a partner at two New York intellectual property law firms for over fifteen years and an attorney at other prestigious firms. He has held leadership positions in bar associations, most notably serving on the New York Intellectual Property Law Association's Board of Directors after chairing the Continuing Legal Education Committee. 
Before law school, Richard served as a combat arms officer in the United States Army. During law school, he transferred to the United States Army Reserve and served five more years, including recall to active duty in support of Operation Desert Storm. He attained the rank of Captain.
Richard remains involved with military- and veterans-related causes. At a previous firm, he spearheaded participation in the Veterans Pro Bono Consortium, helping veterans secure their rightful benefits. Currently, he is President of the West Point Society of New York and an officer in the West Point Chapter of the Association of the United States Army. Finally, Richard counsels and assists young men and women interested in attending service academies or applying for ROTC scholarships.
For the past eight years, Richard has been named a New York Super Lawyer® for Intellectual Property Litigation.
EDUCATION
New York Law School, JD
United States Military Academy at West Point,

 

BS
BAR ADMISSION
New York

New Jersey

U.S. Court of Appeals for the Federal Circuit

U.S. District Courts:

Southern District of New York

Eastern District of New York

Northern District of New York

District of New Jersey 

U.S. Patent and Trademark Office (registered patent attorney)
REPRESENTATIVE CASES
Patent
Hoffmann-La Roche Inc. et al. v. Mylan Inc.

 

(D.N.J. and Fed. Cir.): Represented generic in Hatch-Waxman litigation involving patents for ibandronate (Boniva

®

); prevailed on summary judgment of obviousness—Federal Circuit affirmed.

Warner Chilcott v. Mylan Pharms. Inc

. (D. Del. and Fed. Cir.): Represented generic in Hatch-Waxman litigation involving patents for risedronate (Actonel

®

); prevailed on summary judgment of obviousness—Federal Circuit affirmed; defeated plaintiffs' motion for injunction pending appeal; and defeated plaintiffs' emergency motion to Federal Circuit for injunction.

Yamauchi Corp. v. Albany Int'l Corp

. (D.S.C.): Favorable settlement after prevailing on important claim terms at claim construction hearing.

Shire LLC v. Mickle & KemPharm, Inc.

 

(W.D. Va.): Favorable settlement of action concerning allegations of breach of employment agreement, assignment agreements concerning biopharmaceutical patents, and settlement agreement, as well as tortious interference with those agreements.

Tokyo Electron Am., Inc. et al v. Semitool, Inc

. (N.D. Cal.): Favorable settlement after claim construction hearing in patent case involving semiconductor cleaning equipment.

B. Braun Med. Inc. v. Abbott Labs

. (E.D. Pa. and Fed. Cir.): Prevailed at Federal Circuit with holdings that district court's jury instruction on patent misuse was "legally erroneous" and patent misuse defense was not convertible to an affirmative damages claim by restyling it as a declaratory judgment counterclaim.

Pfizer Inc v. F&S Alloys and Minerals Corp

. (S.D.N.Y.): First court ruling that a patentee had satisfied the 35 U.S.C. § 295 presumption that an imported product was made by an infringing process.
Trademark
Beale v. Redbubble, Inc. et al.

 

(S.D.N.Y.): F

avorable

 

settlement in trademark infringement case against large print-on-demand corporations.

Sage Prods., Inc. v. Skil-Care Corp.

 

(N.D. Ill.): Favorable settlement in trade dress case involving health- and hospital-related products.

Burns v. Connecting Open Time, LLC

 

(D. Ariz.): Consent judgment entered in Anticybersquatting Consumer Protection Act case vitiating underlying Uniform Dispute Resolution Policy ruling (represented by different counsel) and returning domain name to plaintiff.

Tian Yi Tong Investments, Ltd. v. Air Austral

 

(D. Colo.): Prevailed in ACPA case involving First Amendment issues.
REPRESENTATIVE PUBLICATIONS & PRESENTATIONS
Patents: The Road Ahead

, 32:3 Microwave Products Digest (Mar. 2021).

Guest Lecturer,

 

Legal Issues in Information Systems, Pace University Seidenberg School of Computer Science and Information Systems (Mar. 2020, Mar. 2021, and March 2022).

Panelist, Legal Panel, Technology Transfer Days 2018 Symposium (May 7, 2018).

A Balancing Act: Fair Use and Creative Content

, 28:2 NYSBA Entertainment, Arts and Sports Law Journal 35 (Summer 2017).

Panelist, Legal Panel, Technology Transfer Days 2017 Symposium (Apr. 25, 2017).