Joy Goudie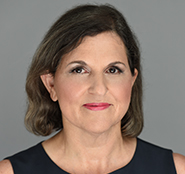 Joy Goudie has returned to private practice after serving as VP and Senior Patent Counsel for Revlon.  Prior to Revlon Joy was In-house Patent Counsel at Wyeth Pharmaceuticals.  Joy holds undergraduate degrees in Chemistry, Health Services Management, and Medical Technology an M.S. in Chemistry from Long Island University, and a J.D. from Pace University School of Law.
Prior to attending Law School Joy worked as a research scientist at Wyeth Pharmaceuticals, Bayer Therapeutics, Cornell University at Burke Rehabilitation Center, and the University of Buffalo School of Medicine.  Her research focused on the development and biological impact of small molecules in oncology, immunology, stroke, and Parkinson's disease.
Joy's experience operating closely with R&D and executive management teams provides her clients with expertise and skill supporting business development through IP due diligence, white space landscaping, strong patent filings, and the utilization of strategic licensing and contracts.
Joy's memberships include the New York Intellectual Property Law Association, the American Intellectual Property Law Association, and the New York State Bar Association.  She serves on the Board of Directors for The American Friends of the Georgian Group, promoting historic preservation of buildings and landscapes in the United States and the U.K.  In her spare time Joy and her family have restored seven properties built between 1850 and 1920.
Connect with Joy at www.linkedin.com/in/joygoudie-esquire or on twitter Joy Goudie @GoudieJoy