George Brieger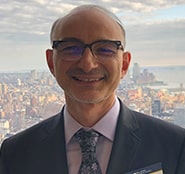 George brings a wealth of patent and related intellectual property law experience to his practice, having successfully drafted and prosecuted hundreds of patent applications in a range of electrical, computer and mechanical technologies. He works to build clients' patent portfolios focused on those technological innovations that are important to their business objectives.  
George's first patent law position was with a major intellectual property law boutique in Washington, D.C., where through frequent in-person meetings (examiner interviews) to prosecute patent applications at the U.S.P.T.O. he gained an appreciation for how the Patent Office examines patent applications. George's practice also includes pre-litigation counseling, litigation support and due diligence, drafting various IP agreements, and drafting opinions on patentability, validity, and infringement. He has mentored patent practitioners on patent prosecution. Clients seek his counsel because he invests thought into every project and thinks outside the box but delivers timely and cost-effective client service. 
George is a United States registered patent attorney and is admitted in New York and Washington, DC.
EDUCATION
LL.M. in patent and intellectual property law, George Washington University Law School. 
J.D., Cardozo School of Law
B.S. in Computer and Information Science, Brooklyn College